Preparing for ease of investment in the region, Subang Regent H. Ruhimat along with the Head of the BUMD Investment and Adbang Bureau of West Java Province visited Suryacipta City of Industry in Karawang for direct observation and discussion to prepare the Draft Regional Regulation (Raperda) for Regional Investment Ecosystems and Industrial Estates on Wednesday, 27 July 2022.
In relation to the expansion of the industrial area carried out by PT Suryacipta Swadaya (Suryacipta) to the Subang area, entitled "Subang Smartpolitan", the Subang Regional Government (Pemda) has rushed to prepare an investment ecosystem that is beneficial for all parties.
Subang Regent, H. Ruhimat hopes that with the presence of a regional regulation on industrial areas, investors will feel comfortable investing in Subang Regency, "We hope that when investors enter Subang, we can foster security, order, cleanliness and comfort, that's the main goal".
Furthermore, H. Ruhimat said that he also wanted this regulation to increase the role of the Subang community in the industrial area. "People don't want to be just spectators in their own territory."
As is known, West Java's GRDP growth, which previously hovered above 5% per year, declined drastically in 2020 and 2021 due to the pandemic. However, in the first quarter of 2022, West Java recorded a positive growth of 5.61% (y-o-y), higher than the national economic growth, and is in fact the highest in Java.
The processing industry, which is the largest contributor towards West Java's GRDP, is allegedly starting to recover in 2022. This sector recorded the highest growth and played a role in encouraging overall increase in West Java's GRDP.
Referring to the processing industry activities in Karawang, including in Suryacipta City of Industry, which has pushed the district into a major industrial area in West Java, the presence of Subang Smartpolitan is expected to provide the same benefits for Subang Regency.
Suryacipta Development Director and Head of Subang Smartpolitan Development Planning, Didi Wihardi in his speech conveyed his pride in the choice of Suryacipta as a company becoming a reference for the Regional Government in drafting Regional Regulation on Industrial Estates in Subang Regency. "It is an honor for us, that our area is used as a reference in the framework of drafting regulations that will become the basis for industrial management throughout Subang Regency".
"Subang Smartpolitan will be different from our industrial area in Karawang, we will take advantage of the use of IoT in regional infrastructure development. With more than 30 years of experience managing industrial estates, we are also optimistic that we can collaborate with the local government in creating the best investment ecosystem" said Didi.
Closing his remarks, H. Ruhimat again thanked Suryacipta for assisting the Subang Regional Government in observing the context of drafting an Industrial Estate Regulation. He hopes that the regulations that are issued will be able to provide benefits for all parties, be it the investors, the government, and the community.
"Thank you to Suryacipta for assisting us in the observation, where we are currently drafting a Regional Regulation on Industrial Estates. Through this observation, I hope to produce regional regulations that are beneficial to various parties. Regarding the regulations that we make, we must return to the principle of professionalism, that is my hope".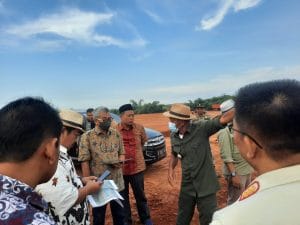 The visit was followed by a field inspection of Subang Smartpolitan which is under construction on Thursday, July 28, 2022. Given the schedule for handover of industrial land in 2023, it seems that not only the area managers, but the local government are also enthusiastic in welcoming the presence of investors in Subang Smartpolitan.