Investment in Indonesia is increasingly showing positive sentiment. As reported by the Bank Indonesia and the International Monetary Fund (IMF), the value of Gross Domestic Product (GDP) continues to increase every year. By the end of 2021, the GDP value had reached 1.2 trillion USD – despite the pandemic.
The increasing GDP comes from Domestic Direct Investment (DDI) and Foreign Direct Investment (FDI). One of the highest FDI realizations was taken place in the first quarter of 2021 is from China – with a value of USD 1.4 billion, or 13.2 percent of the total realization of FDI in Indonesia.
According to Trade Map, China is also a major contributor in the increasing value of import and export in Indonesia. Most of these import and export activities are carried out by Chinese industrial companies operating in Indonesia, particularly those located in West Java.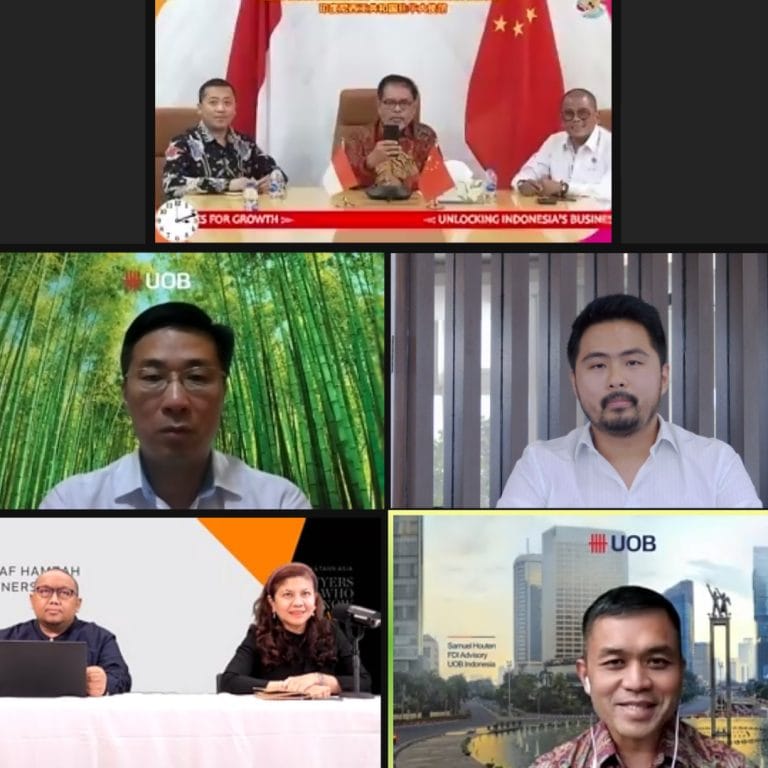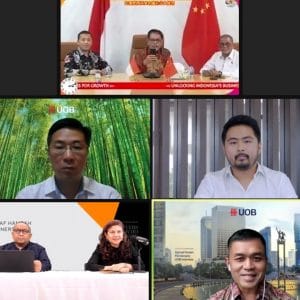 As the developer and manager of industrial estates and smart city in West Java (Karawang & Subang), PT Suryacipta Swadaya (Suryacipta) has collaborated with United Overseas Bank China Limited and held a webinar entitled "Unlocking Indonesia's Business Opportunities for Growth".
This webinar brought the government and industry practitioners to discuss topics related to Indonesia's potential for investment and business growth, cross-border financing solutions between Indonesia and China, and Indonesia's legal and regulatory framework.
H.E. Djauhari Oratmangun as Ambassador of the Republic of Indonesia to the People's Republic of China & Mongolia, stated that Indonesia is one of the promising countries with great potential for doing business. The bilateral cooperation between Indonesia and China, which has been running for more than seven decades, has resulted in many strategic projects.
The collaborative development includes techno park, industrial park, waste treatment, powerplant, digitalization, 5G transportation for special economic zones, sister ports, fisheries industry, medical technology for renewable and clean energy. This is in line with this year's G20 theme with Indonesia's leadership, concentrating on three major issues: health infrastructure, renewable energy and digitalization.
In addition, other collaborations are reflected in the following points; China is Indonesia's largest trading partner with a total import-export of 123.4 billion USD according to data from Chinese customs, China's investment realization in Indonesia last year valued to 3.2 billion USD, and the increase in the first quarter of 2022 in the total export and import of the two countries reached 32.76 billion USD, an increase of about 31.2 percent and the realization of investment was 1.4 billion USD, an increase of about 40 percent.
"I will explain the reasons why you should invest in Indonesia, the country with the largest economy in Southeast Asia. Our GDP has already reached 1.2 trillion USD in 2021, that is the reason we were chosen to be a member of the G20. Our population of more than 270 million people with 44 percent under the age of 25, a young and productive workforce. We project Indonesia to become among the largest economy in 2045." said Djauhari.
Indonesia also creating a new, investment friendly policy and reducing bureaucracy to attract more investment. Indonesia is the fourth most prospective investment destination, the biggest power of digitalization in the region, the fifth highest number of internet user in the world, country with the second largest biodiversity in the world, global natural resources including nickel. In 2020, the Indonesian Government issued an Omnibus Law to boost investment.
According to Djauhari, the Government's efforts are expected to boost the economy between the two countries and certain individuals and businesses. He had also invited Chinese investors to visit Indonesia directly to see further the existing potentials.
Mark Yang, Alternative CEO and Head of Global Markets UOB China, in his presentation explained the topic of how to maximize LCS (Local Currency Settlement) to help Chinese companies expand efficiently and explore the Indonesian market.
In accordance with the Memorandum of Understanding (MoU) signed by Bank Indonesia and the People's Bank of China, the two officially launched the China-Indonesia Local Currency Settlement Cooperation Framework (LCS) on September 6, 2021. This cooperation forms a direct offer of RMB/IDR for expand the use of local currencies in economic and trade exchanges between the two countries and promote trade and investment facilitation.
Since the launch of the LCS, each party will appoint a licensed cross-currency market maker (Appointed Cross Currency Dealer or ACCD Bank) to enable local currency settlements between importers and exporters of the two countries, by opening mutual non-resident accounts in each other's currencies.
The 20 ACCD banks consist of 12 banks in Indonesia including UOB Indonesia and 8 banks in China including UOB China Limited. In the process, the company first has to open an account at the ACCD bank, then the company conduct RMB/IDR purchase and sale transaction through the banks, then the company can independently choose RMB or IDR for trade and investment settlement.
Nazli & Ahmad Maulana from AHP (Assegaf Hamzah & Partners Law Firm) provided insight about the tax structure and labor law.
Some of the taxes that apply in Indonesia in terms of investment and business include Corporate Income Tax (CIT) rate 22 percent (previously 25 percent), Withholding Tax (WHT), Value Added Tax (VAT), Dividend Payment and Tax Treaty, Interest payment.
According to the structure, direct investment from China to Indonesia and from China through holding companies in other countries then to Indonesia will certainly be different in terms of tax deductions. For example, a Chinese investment that is directly established in Indonesia will be subject to a 10 percent tax deduction (Dividend Tax minus Tax Treaty), but if the investment is established through a holding company in Malaysia and then opens an operating company in Indonesia, it will be subject to a 15 percent tax deduction. Variations of tax deductions also applies to Royalty.
With regard to employment, employment agreements under Indonesian law are relatively simple, there are three things that must be understood. First, the Employment Provision is usually different for each employee, unlike the Company Regulations which apply equally to all employees. Second, the Company Regulations also can be transformed into Collective Labor Agreements which can be used to resolve problems or disputes between labor unions and companies. The third is the Employment Law which applies to all workers in Indonesia.
Quite similar with China, Indonesia is also a civil law country where we use laws and regulations as a main reference.
Elbert Hartanto, Project Officer Suryacipta revealed that, for Indonesia, China is one of the very crucial allies. Not only dominating exports and imports in the country, historically the investment realization from China has also continued to increase. China's biggest investments in Indonesia are tourism, (renewable) energy, mineral and metal manufacturing, technology and so on.
One of the main provisions of investment in Indonesia is the existence of industrial estates as a home for various industrial sectors. It is recorded that 28 of the 42 industrial estates are located on the island of Java with 33 percent of them located in West Java. It is known that one of the strong reasons for the massive industrial area in West Java is the population and infrastructure that continues to grow.
56.2 percent of the population in Indonesia comes from the island of Java, where West Java accounts for the highest number of up to 18.4 percent or 49.6 million people. 33 percent or 23 million of the population of West Java are high school and above educated. With qualified workers and competitive wages, West Java is increasingly in demand as an ideal destination for manufacturing industry.
Infrastructure in West Java is also increasingly complete and reliable, as there is direct toll access connecting West Java with Jakarta and Java, Kertajati International Airport, and Patimban Seaport or known as the largest car export port in Indonesia.
It is proven that one of Suryacipta's industrial estates, Suryacipta City of Industry in Karawang, West Java, is currently a home of over 150 tenants from various manufacturing sectors, both domestic and international. These companies absorb more than 34 thousand workers, which are dominated by workers from the surrounding area.
Armed with more than 32 years of experience managing an industrial area in Karawang, Suryacipta is now expanding its project through the development of integrated industrial township "Subang Smartpolitan" in Subang, West Java.
Align with the company's vision of "Building a Better Indonesia", Subang Smartpolitan is an integrated industrial area with a "smart and sustainable" concept that will leverage technology in the development of infrastructure and facilities in the region, also attributing the business, social and environmental sustainability. In the end, Subang Smartpolitan also strives to make a positive contribution to economic development in Indonesia.