Indonesia is and will remain as a potential automotive key player and key market in Southeast Asia (SEA). Indonesia is one of ASEAN's founding countries, it is the largest country with total area of 1.9 million Km2, largest economy with Gross Domestic Product (GDP) of USD 1.1 trillion and largest population of over 270 million citizens.
The World Bank estimated that Indonesia's middle-class population in 2020 has grown nearly doubled from 2010 and accounted 31% of the total population. The figure is expected to further grow up to 56% in 2030 and 76% by 2040.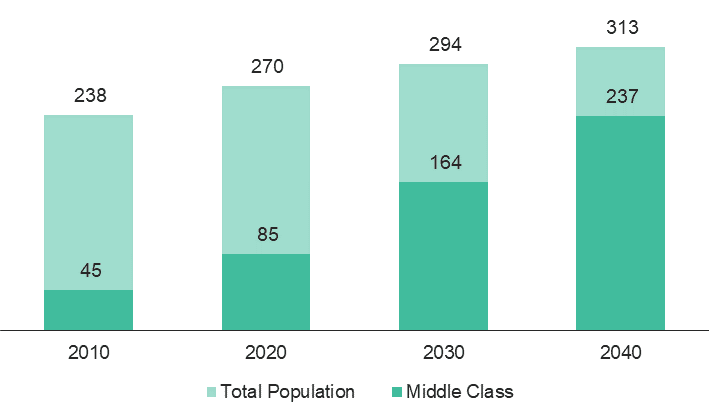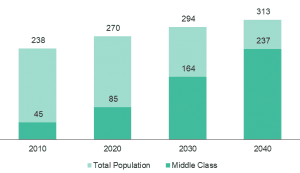 Source: National Bureau of Statistic (BPS), January 2021; World Bank, December 2020
Indonesia's population in 2020 was over 270 million where 56.1% resides in Java. Likewise, 59.0% of the country's GDP is also contributed from Java.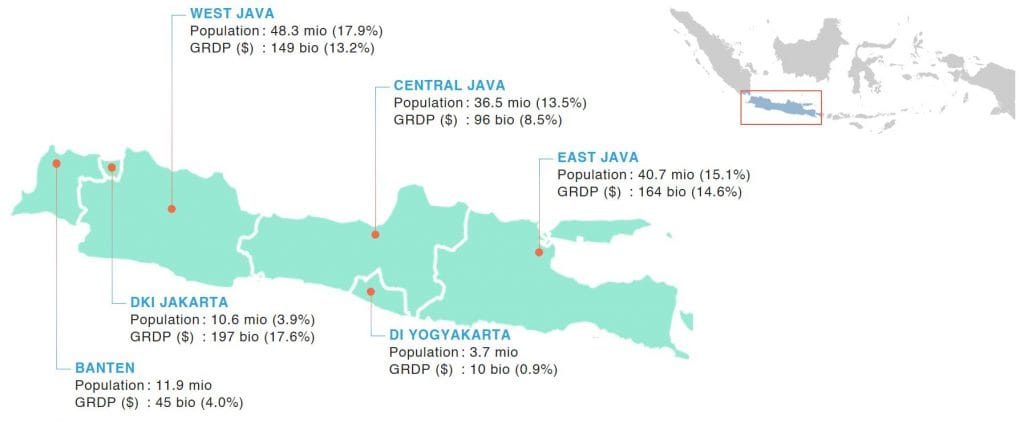 Source: National Bureau of Statistic (BPS), 2021
Indonesia's GDP is largely influenced by their automotive industry. By comparison to ASEAN, Indonesia is the largest automotive producers in 2021. Their production number is to accommodate the demand of Indonesian consumers that favours using public and private vehicles as the primary mode of transportation. Their sales have shown a significant growth from 2020 to 2021.
Indonesia is the Largest Vehicle Market in 2021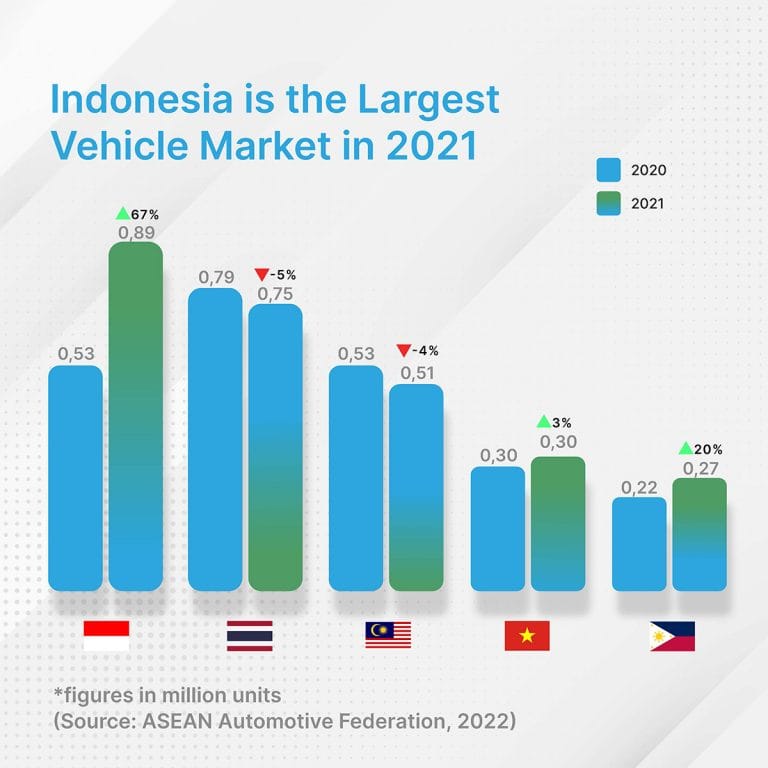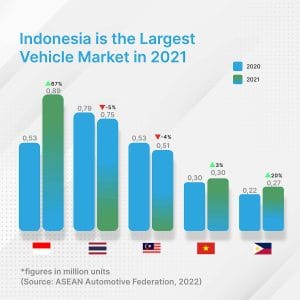 Source: ASEAN Automotive Federation, 2021
The Coronavirus pandemic causes weak demand from Indonesian consumers due to the global recession and low purchasing power. Since the Coronavirus pandemic, there is an increment in the preference for personal vehicles from 40% to 52%. In 2020, a total of 78 vehicles are owned for every 1000 Indonesians.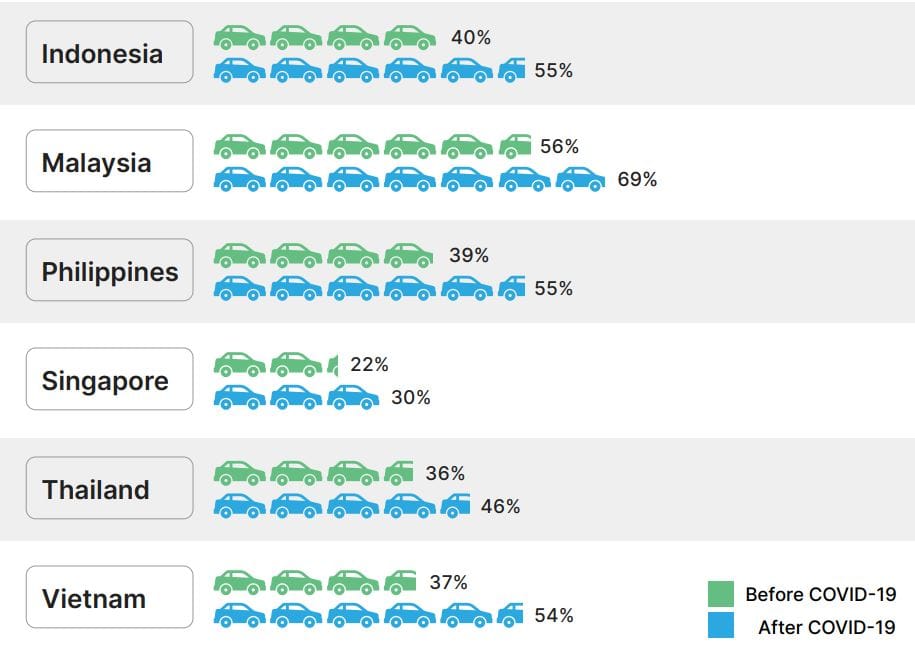 Source: Deloitte, 2021
The Indonesian economy is on its road to recovery from the 2020 global decline. As the host of the 2022 G20 conference, Indonesia is amplifying motives to adopt to its new climate including prioritising initiatives that caters to the Electric Vehicles (EV) demand. In 2019, the Presidential Decree No. 55/2019 notes that the development of domestic EV industry is classified as a national priority. Indonesia's confidence in being part of this developing industry is backed up by their current assets which consists of their abundance of raw materials resources.
In terms of infrastructure, Indonesia has a total of 39 EV charging stations by the end of 2020. The numbers have dramatically increased by the end of 2021, totalling to around 219 charging stations, in which 114 of the total are provided by PLN, a government-owned electric power hub company.
Indonesia's number of EV chargers ranks them as the 4th largest public chargers to EV ratio, and this large ratio indicates a large opportunity for EV production in Indonesia.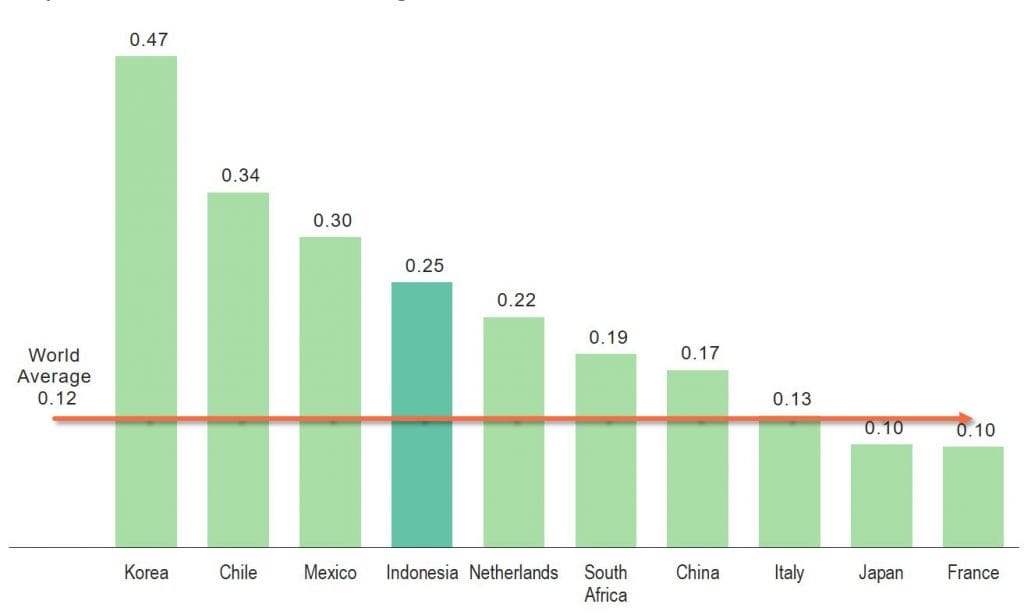 Source: International Energy Agency, 2021
With a supportive ecosystem, Indonesia inherits big opportunities for EV producers. Alongside the number of charging stations, national infrastructures are developed to optimize productivity along the value change. Furthermore, the automotive industry corridor expansion that ranges from East Jakarta to Subang, West Java, will contribute to production efficiency.
As of 2021, Indonesia is the home of the world's largest nickel reserves. Nickel is making a vital contribution to the lithium-ion (Li-ion) batteries that power much of the electric vehicle revolution.
Top 5 Most Nickle Reserve Country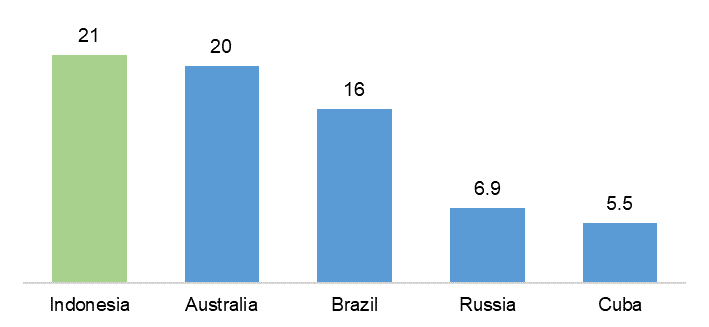 Source: USGS Mineral Commodity Specialist, 2021
In support for the development of the industry, regulations on nickel prices are written by the Minister of Energy and Mineral Resources in Regulation Number 11 of 2020, concerning the Third Amendment to the Regulation of the Minister of Energy and Mineral Resources Number 07 of 2017, as well as Procedures for Setting Standard Prices for Metal and Coal Mineral Sales.
In short, prices of nickels has been regulated to support the development of the industry. The regulated price is based on the value in cash seller and settlement is determined by the regulatory London Metal Exchange (LME) meeting taken place, on average, from the 20th of two months before the HPM period to the 19th one month before the HPM period.
Indonesia provides other incentives for automotive manufacturers, which includes Tax Holidays, Tax Allowances, Investment Allowances, CIT Reduction, Free Import Duty, Tax Reduction for Renewable Energy, Bonded Zone, and others. In addition to a tax reduction for luxury goods, the Indonesian government is declaring a revision on the Law (UU) Number 6 of 1983 concerning General Provisions and Tax Procedures (UU KUP), which will provide tax reductions for vehicles with lower carbon emissions.
The incentives may increase sales from the Indonesian market, as vehicles are now more accessible to purchase. For instance, Mercedez Benz Indonesia has experienced a significant reduction in their products' retail pricings; their S-Class vehicles valued at Rp.3-7 Billion is reduced by Rp.500 million due to the luxury tax reduction. As more incentives awaiting for approval is in progress, Indonesia's infrastructures and incentives aims to accommodate EV producers in exploring the Indonesian market.
Subang Smartpolitan, a PT Suryacipta Swadaya project, is an Indonesian integrated industrial township that is built to fit the ideal destination standards for EV manufacturing development. Subang Smartpolitan is developed with a Smart and Sustainable concept that integrates business, connectivity, community, and innovation in one township. It is located in the new economic corridor expansion in Rebana Metropolitan, West Java which directly connected to numerous national infrastructure such as Cikopo Palimanan (Cipali) Toll, Patimban Seaport, West Java International Airport, among others.
For a more comprehensive insight, download our research here!